Granite and Quartz Countertops: Just one call and 5 easy steps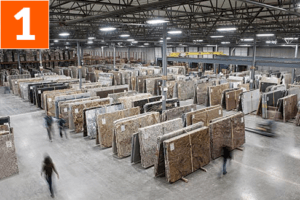 You select your granite slabs on site
Hand select genuine 3 cm. thick granite from over 150 popular and exotic slabs in our local showrooms. There are no issues matching colors from small samples or driving to distant locations to confirm you're getting what you want. Granite countertop template to installation takes just 5 working days.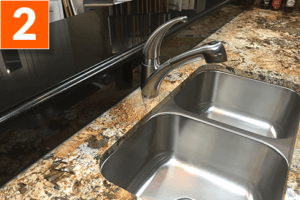 You choose the "finishing touches"
Pick the edge style and backsplash options that suit your style. Then select from a variety  of the highest quality 18 or 16 gauge stainless steel undermount sinks and high quality  all-stainless faucets, specially chosen to complement your granite countertops.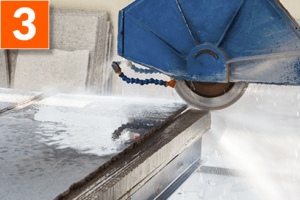 We create the countertop template
Our countertop specialists come to your home to create a precise template of your existing  countertops and cabinets, including the location of sinks, cooktops, electrical outlets, switch  plates and other accessories. The template provides our certified fabricators with the exact  measurements they need to ensure a custom fit of your new countertops. And your old countertops  can stay in place until the day of your granite installation, so there's very little kitchen downtime.
You can also download our sketch template here to help you measure.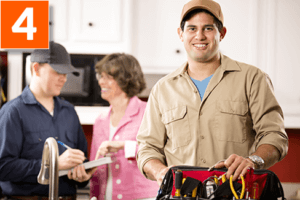 You confirm the order
By reviewing and initialing an Acknowledgement & Approval Form, you confirm your final costs  and the details of your installation. Now the exciting part begins!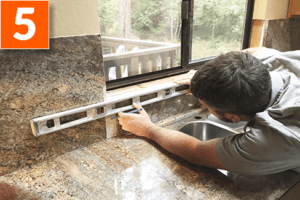 We do all the work
The day of your installation, our experienced, certified installers will arrive with your granite countertops. If you've contracted with us to remove your old countertops and disconnect existing plumbing, they will do that before installing your granite countertops. Then we install and seal your countertops. All you need to do before we arrive is empty the sink cabinet(s) and clear everything off of your old countertops. We can even handle all the plumbing for you.  You get it all with one visit!