These homeowners were engineering professionals by day and amateur cooks whenever possible. Their space was reimagined from the original 1980s design into a modern 2022 vibe.
The homeowner reached out to Barb Abraham of Barb Abraham Designs LLC for her expertise and input. Together with longtime associate Theresa Aho of Sims Lohman, they were able to give the owners the dream kitchen they have always wanted. Their 30+ years in new construction and remodeling design resulted in a truly inspiring workspace.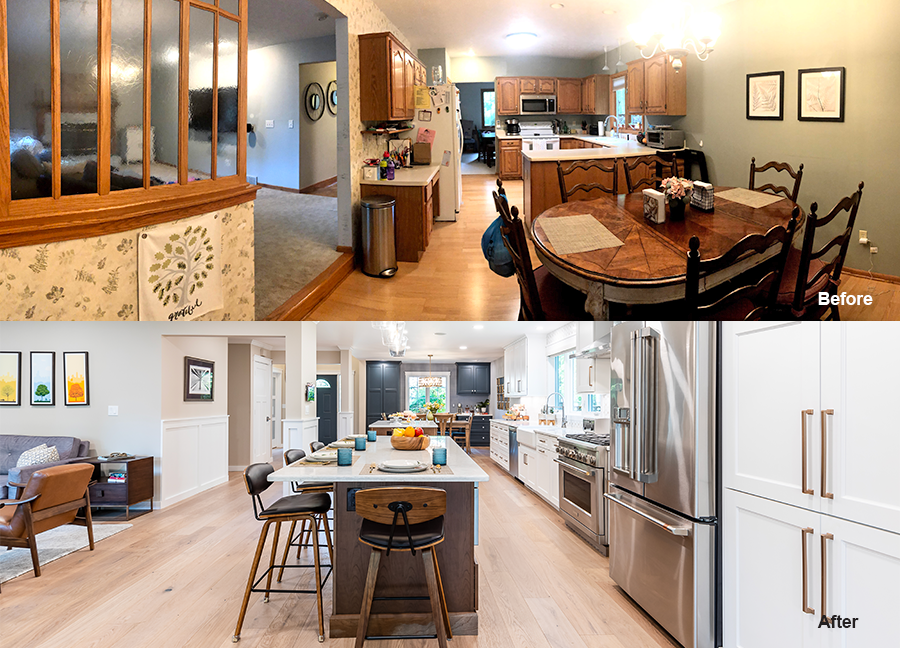 The home originally had a separate dining room, a step-down kitchen with oak cabinets, and a peninsula island. The small dinette space led out to a covered screened-in porch. With the construction expertise of Andy Kuncel of Cardinal Craftwork LLC, walls were removed and the kitchen floor was raised to provide an open view from front to back. The screened-in porch was enclosed with windows and doors and became a morning room with a beverage and coffee center for early mornings enjoying the view of the beautifully landscaped yard. The original ceiling was removed to reveal a surprising vault that opened the room even more.
The key to making this design work smoothly would be the removal of the soffit header that ran the length of the house and separated the kitchen and dining area from the family room. Andy was able to miraculously imbed the new support header into the ceiling space which visually opened the sightline from front to back and side to side. "Sometimes we run into homes that are impossible to do this with, but we were pleased to be able to give them a purposeful and planned layout that looks more like an original architectural design than a renovation," Andy stated.
When designing the kitchen, Theresa and Barb considered the needs of the daily lifestyle of the family of four as well as the wants of the husband and wife who enjoy weekends of trying new cooking and baking recipes. A dual island situation worked best, providing a stand-alone baking space and a larger island for seating. Utilizing two islands instead of one also worked around the permanent support structure and electrical and heating runs in the columns.
The baking island spring-loaded heavy-duty mixer lifts underneath the island to provide continuous support when raising appliances to counter height and lowering them into the cabinet.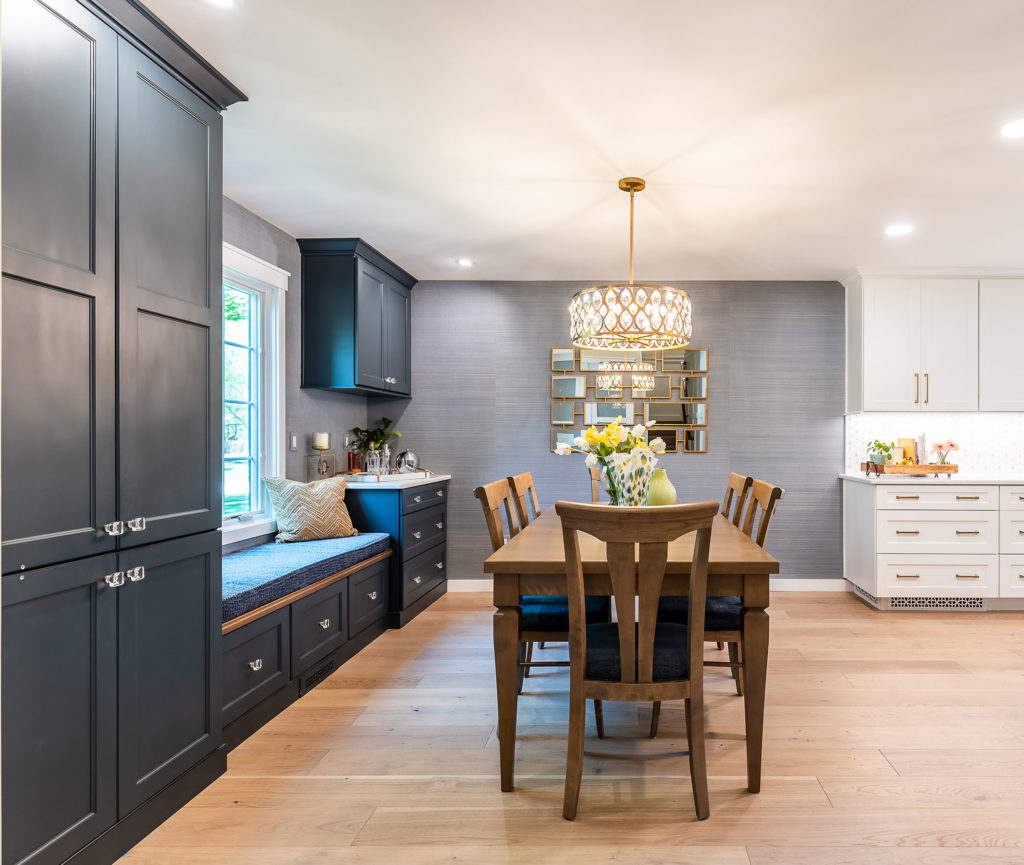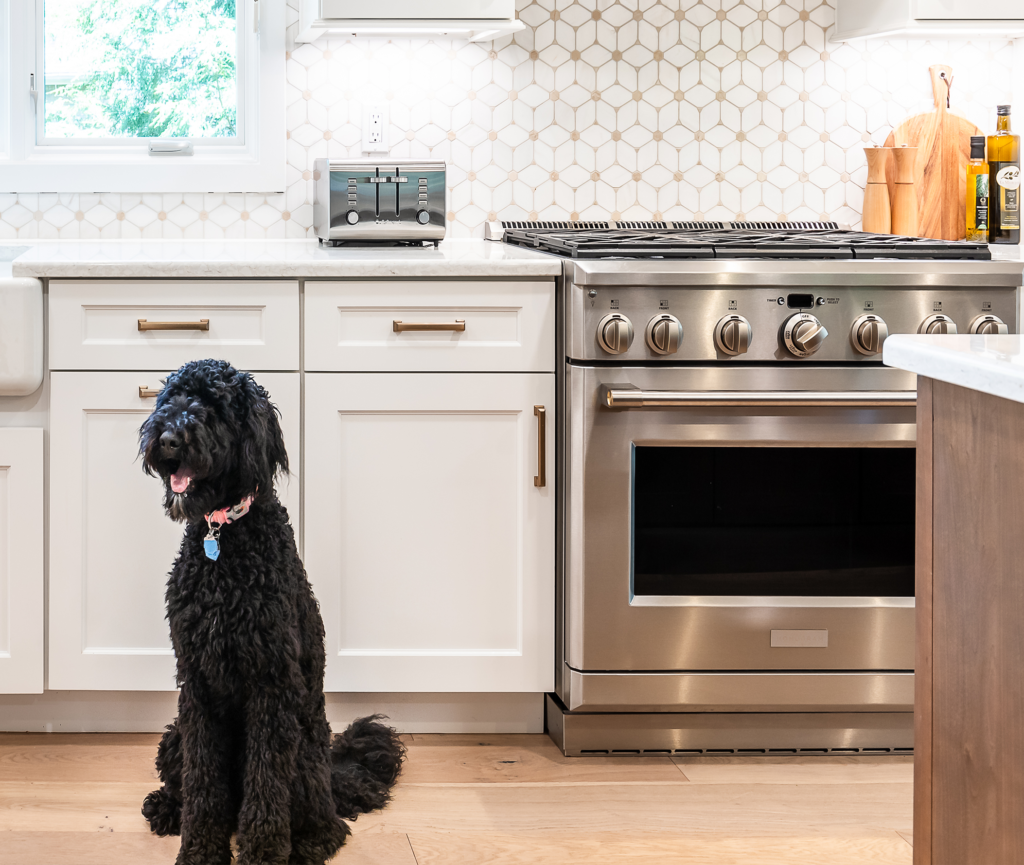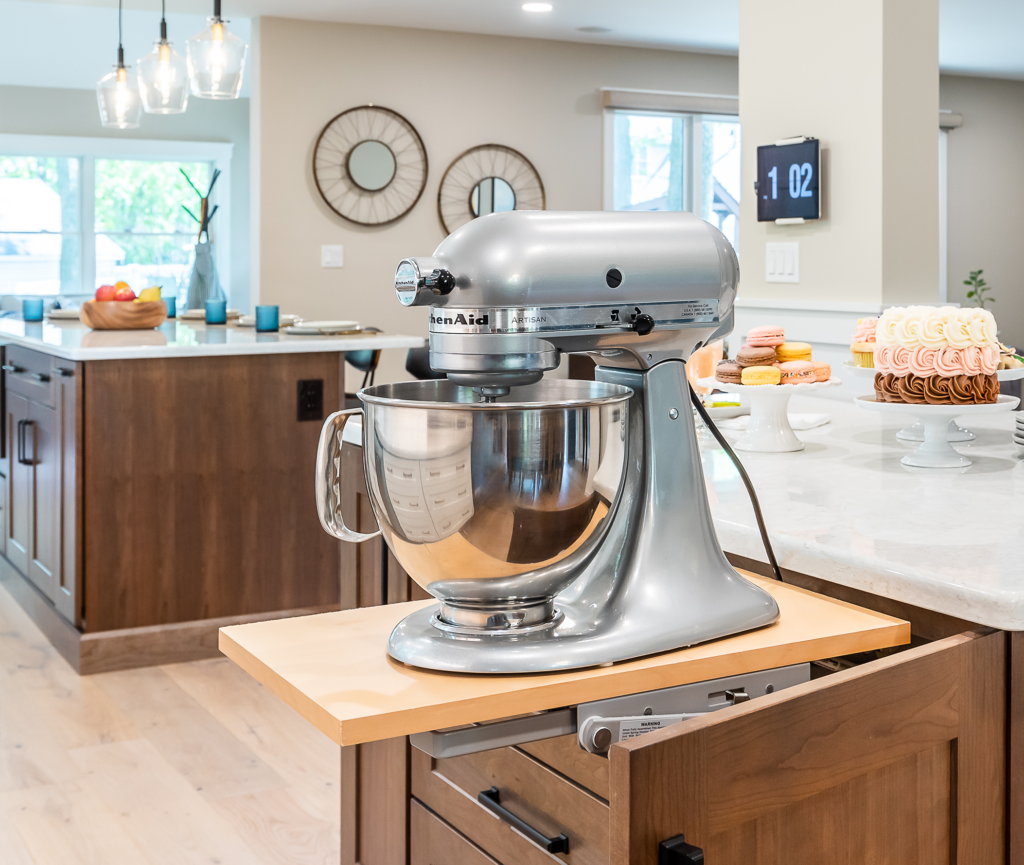 "The overall look of the kitchen is warm and inviting with the combination of colors and textures.  The farmhouse sink, professional style faucet, and real wood flooring make the space comfortable to live and work in.  Multiple layers of lighting with pendants, recessed cans, and under-cabinet lighting can be adjusted to tasks at hand or the need for light," Barb said.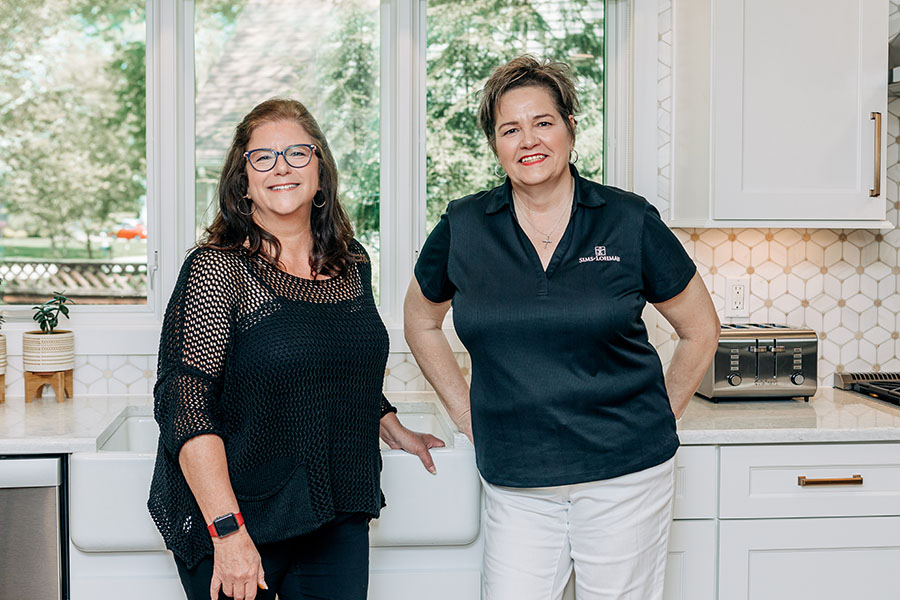 "Theresa and Sims Lohman do an amazing job of attention to detail, communicating with designers and clients and providing the highest level of customer service in the business. We purchased two brands of cabinetry and the quartz countertops from them and are extremely pleased with the experiences. They work well together and we never questioned the outcome. It was a fantastic experience for our family.
Kitchen cabinets – Omega Renner Elemental White
Kitchen Island – Kemper Larsen Cherry Morel
Countertop – Silestone Lusso
Built-ins – Omega Renner Amalfi
Hardware – Atlas Sutton Place
Hardware – Atlas Sutton Place
Countertop – Silestone Coral Clay
Tile – MSI Cecily Patterned Marble

We hope this inspires you to tackle your renovation project. Please let us know when you're ready to work together! If you would like to contact Theresa for additional information or assist you with your next project, please call our Broadview Heights showroom at 440-346-4801. Barb Abraham with Barb Abraham Designs can be reached at 216-554-2377 and Andy Kuncel at Cardinal Craftwork at 216-513-0427.