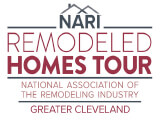 Sims-Lohman is proud to be a participating sponsor at the upcoming Remodeled Homes Tour in Northwest Ohio. The event will be hosted by the Greater Cleveland Northeast chapter of NARI (National Association of the Remodeling Industry).  This tour gives consumers the opportunity to walk into 11 newly remodeled homes and see the very best in professional remodeling.  They will also be able to meet and speak directly with the contractors and remodelers about each job.  The projects include kitchens, baths, interiors, exteriors, complete home renovations and more. This tour is self-guided and will be held rain or shine.
Tickets will be sold in advance online at www.NARIHomeTour.com and at each home on the Tour.
Ticket prices will be $10 per person (Children 16 and under are free). Each ticket entitles attendee to visit all 11 sites.
A portion of the sale of each RHT ticket will be donated to Autism Speaks.
WHERE: The homes are located in various parts of Northeast Ohio, including Aurora, Cleveland Heights, Independence, Kirtland, Medina, Mentor, Rocky River, Shaker Heights, and Westlake.  The two day event will give consumers the opportunity for a one on one experience to see what their remodeled home potential could be!
A complete listing of the 11 homes and their project descriptions is located on our website NARIHomeTour.com
Each project and contractor will be featured in the June Special Issue – NARI Greater Cleveland Remodeled Homes Tour Guide within Cleveland Magazine in both print and digital formats. COMING SOON                                                                 
WHEN: Saturday, June 10, 2017 from 10:00am – 5:00pm
Sunday, June 11, 2017 from 12:00pm – 5:00pm
For more information, please visit their website: www.NARIHomeTour.com or contact Lindsay Chudowsky, Administrative Assistant in the NARI office. (216) 631-7764