Kitchens and bathrooms are the trendsetters of the home. It is these two rooms that are the first to see new design ideas and decorating fads that eventually spread through the rest of the house. Kitchen and bath design trends come and go. Unfortunately your home can quickly look dated if your house hasn't kept up with the times which can hurt your resale value. But with so many ideas coming in and out of fashion, it can be hard to identify what is trendy and what is here to stay. This brief guide should help you see what new ideas have longevity.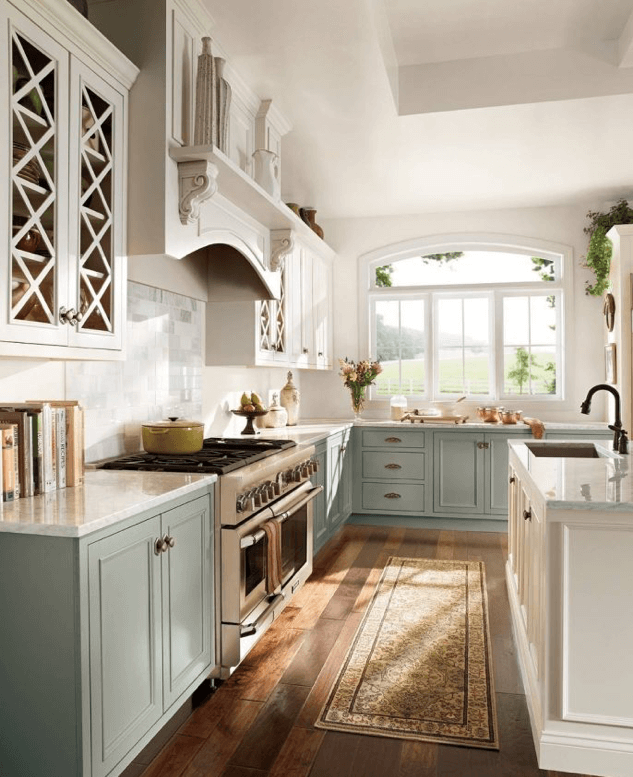 Trendy
Two different colored cabinets, typically a lighter paint color for the top cabinets and a darker hue for the lower one, is a kitchen and bathroom trend that is picking up speed. It offers a way to include an addition color to the palette and to break the monotony of a large swath of the same color. Often, a combination of painted cabinets and natural wood cabinets is presented. By having a kitchen island, for example, as stained wood, it helps to distinguish it from the rest of the cabinets and it gives the illusion that it is a piece of furniture rather than a built-in structure.
Here to Stay
Non-white painted cabinetry is here to stay. All white was the staple for a long time, but homeowners are veering away from the starkness of white. Today, painted cabinets are found in a wide array of colors, from gray and black to blues and greens. Colors in general are becoming darker as homeowners seek the sleek and smooth depth of rich colors. In fact, appliance manufacturers are taking note and offering more of their products in matte black finishes.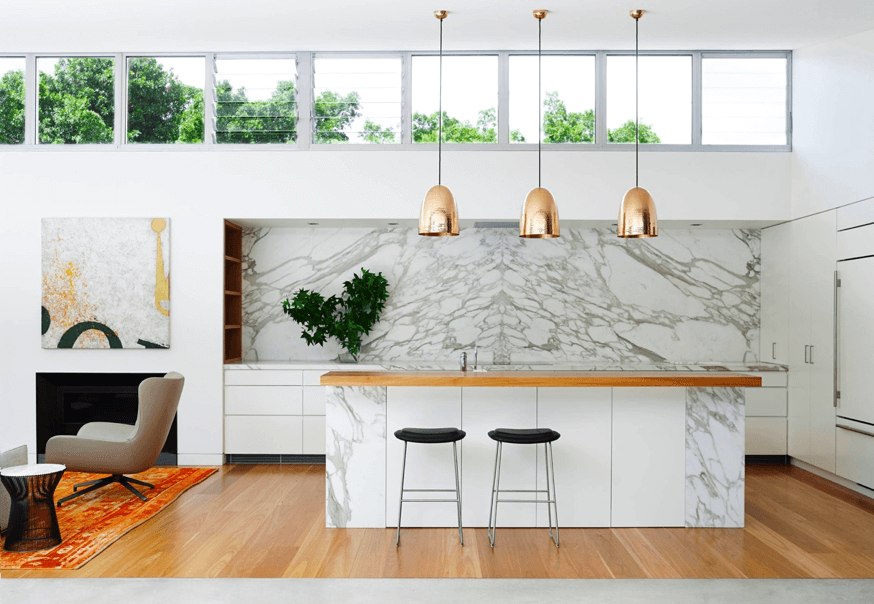 Trendy
Brass fixtures are making a comeback and beginning to replace chrome and stainless steel, but we have noticed another fixture finish that has become trendy … rose gold. Rose gold provides an updated look to the traditional brass fixtures of a generation ago, and the warmth of the metal complements the rich, warm wood tones popular in kitchen and bathroom cabinetry. Light fixtures, faucets, and more in opulent rose gold may prove to be a trend that with staying power or it may be the bridge to a world of gold-tinted or brass fixtures just waiting to regain their former popularity.
Here to Stay
Quartz as a countertop material quickly surpassing marble, the traditional material of choice for kitchen and bathroom counters. Quartz offers several benefits, such as stain resistance and heat resistance, and is easier to maintain than granite or marble. Time will tell if quartz will be a product that moves from "trendy" to "traditional", knocking off marble or granite as the top countertop material, but we wouldn't be surprised to see that happen.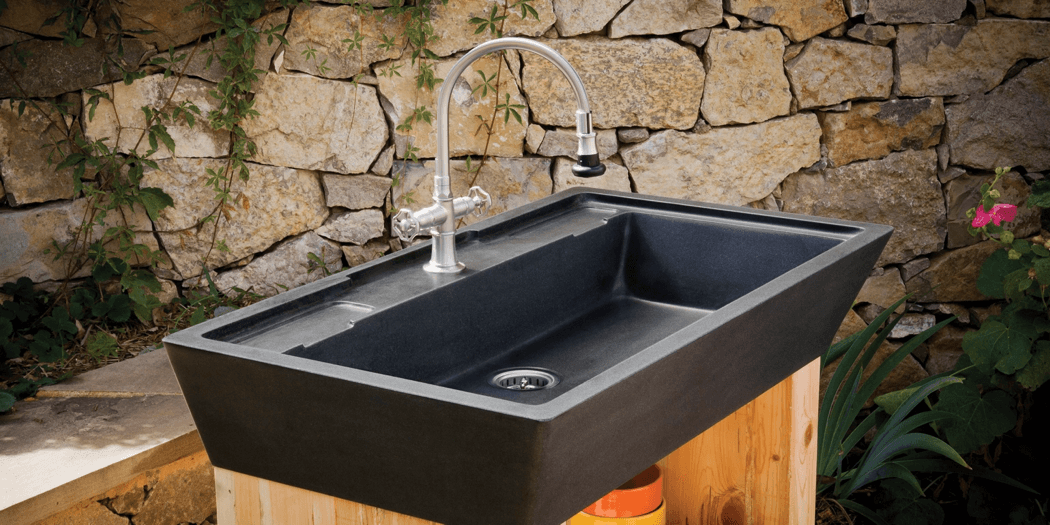 Trendy
Stone bathroom sinks are a trendy alternative to traditional porcelain sinks. While stone has been widely-used in kitchen sinks, it has been slower to catch on in bathrooms. Hand-carved and stunningly beautiful, stone sinks are as durable as they are attractive.
Here to Stay
Glass-front cabinets and open shelving in both the kitchen and bath has been popular for several years so we feel it is safe to say this trend is here to stay. The benefit to glass-front cabinets is that it gives the room a more open feel. The drawback is that you have to keep your items inside neat and organized. The open shelves allow you to display cute rolls of towels, bath salts, and candles in your bathroom, or decorative dishes and bottles in your kitchen, but they transform storage space into display space. If space is an issue or you know you won't be able to maintain the orderliness of the display items, glass-front or open shelved cabinets may not be the trend for you. They do, however, seem to be quite well-liked as they continue to pop up in kitchen and bath designs.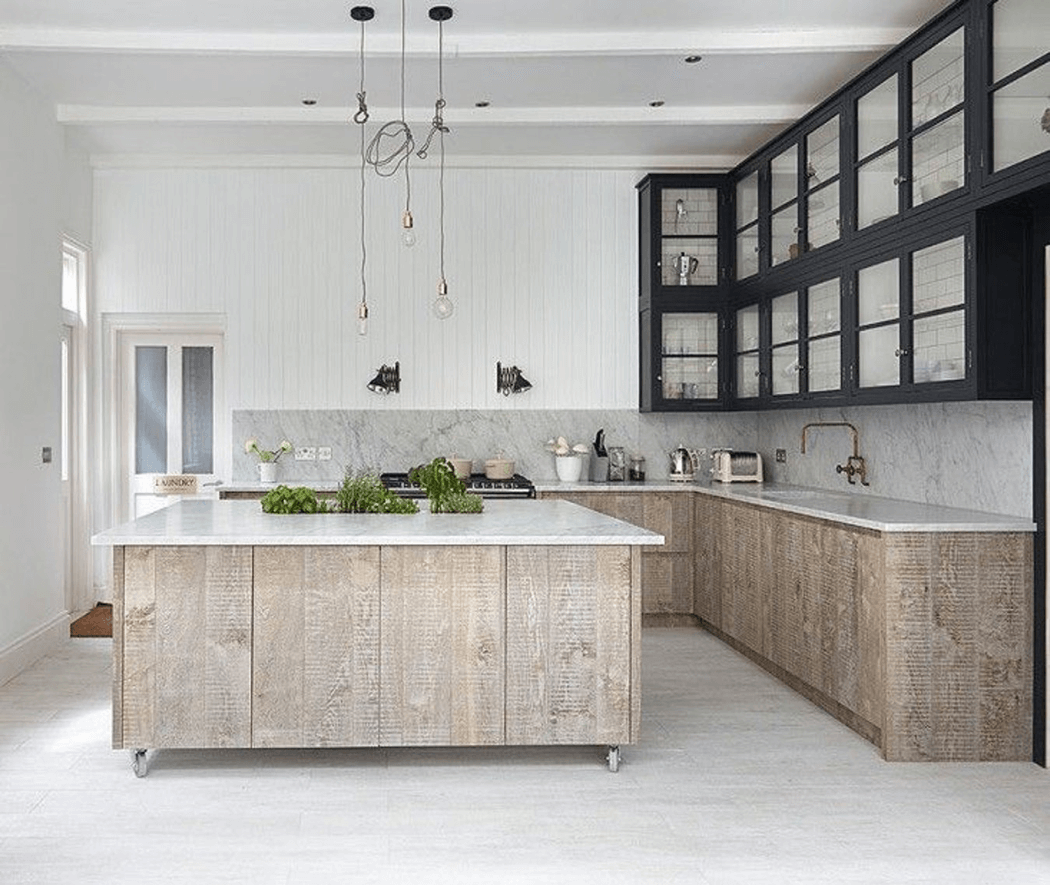 Trendy
Bleached wood cabinets are a relatively new trend that provide homeowners with an alternative to white painted cabinets. The bleached wood is still light and airy, but it is not as harsh or stark as solid white and you can still see the natural beauty of the wood. Bleached wood is versatile … it can look ultra-modern and contemporary, or farmhouse rustic, or beach house chic.
Here to Stay
Gourmet cooking is now popular, thanks in part to the plethora of cooking shows on television. Homeowners want a chef's kitchen with all the convenient and upscale gadgets and appliances that top chefs use. A kitchen trend that seems to be sticking around is the chef's kitchen, complete with warming oven, wine cooling refrigerator, vegetable sink, and more.