Remodel during the Holidays
Article originally sourced from NARI of Greater Cincinnati
Though it may sound crazy to start a remodel at this time of year, there can actually be many benefits. In general, it seems there is never enough time to prepare before the holidays, no matter how much planning you do. But you may be looking at all your unorganized clutter, thinking you need to make some changes. When your remodel is all said and done, you're going to have more functionality for not only you and your family but also your future guests.
Here are some tips to help you with your remodel and stay stress-free:
Organize
The planning, organizing, and patience that goes with a remodel can increase your stress level. Just like planning a vacation or a wedding, you should start a binder where you can keep your ideas, contractor referrals, receipts, and important dates for product arrivals.
Be Patient
Remodeling is a long process so we would start the patience right away. When you are in the midst of the chaos, it will seem to drag on forever. Most likely there will be setbacks or delays that occur. Setting ground rules, in the beginning, will help keep your contractor on schedule, but remember flexibility is really what will get the project done faster.
Ways to Prepare a Temporary Kitchen during a Renovation
The best way to make it through the process is to set up a temporary kitchen in a different area of the house. Ideally someplace with a sink nearby. A couple of great ideas is to take a couple of old cabinets and set them up in your makeshift kitchen to help you prep. Purchase clear storage containers to label and keep your most-used kitchen items inside drawers to help you quickly find them. Maybe a card table and chairs to make a dinner table will help it feel more inviting for the family.
Increasing the Value of your Home
With mortgage interest rates so low, you can find great rates to refinance your home renovation
If you are planning to sell in the spring, realtors advise that homes with a kitchen remodel will sell faster to potential home buyers
A third point to add to a quality renovation is that it will lower your energy bills. Today's appliances are highly energy conscious as opposed to models made even ten years ago
A holiday recipe to make ahead of time: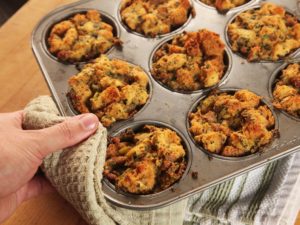 Stuffing muffins
1 (14-ounce) package Pepperidge Farm® Herb Seasoned Stuffing (or use your own stale bread combo of your choice)
3 stalks celery, chopped
1 whole onion, chopped
1/2 stick unsalted butter
2 cups of homemade turkey stock, heat until almost boiling
2 eggs, beaten
1 cup fresh chopped parsley
Dried Sage to taste
Additions: stuffing recipes vary so much! You can add cooked sausage, chopped apples, dried cranberries, golden raisins, oysters…whatever your heart desires.
Cut a loaf of bread into little cubes.  You can leave them out for a few hours to get stale, or you can bake them in the oven for 10-15 minutes to dry the bread out.
Sauté the butter, onion, and celery in a skillet until soft. Add the seasonings and cooked veggies to the bread cubes in a large bowl.
Whisk together the broth and eggs. Pour over the bread mixture and add the parsley. Toss until everything is coated.
Use an ice-cream scoop to fold in the stuffing mixture in the greased muffin tins. Bake at 350 for 30 minutes and serve.
Save
Save
Making Meals Ahead
Making some big meals ahead of time and freezing them in small portions can help. Some other ideas to help with the weekly menu is clipping coupons for take-out and making different sandwiches for dinner to reduce cooking.
The Big Payoff
Although there is never really the perfect time to renovate, we hope these tips might help ease your stress throughout the whole process. Remember, your holiday guests will not care if you've forgotten the Cranberry sauce, because they're too busy admiring your gorgeous kitchen!  Our design team at Sims-Lohman is here to help you every step of the way in executing your new remodel!