Tips to Sell Your Home
Realtors are fond of compiling lists of the top features that homebuyers look for when house hunting. Kitchens are consistently at the top of these lists. As is said, the kitchen is the heart of the home. The average family spends a large portion of their time at home in the kitchen, either preparing food or eating or doing homework, or visiting with a neighbor over a cup of coffee. Potential buyers are looking for features such as convenient floor plans, beautiful cabinets, high-end appliances, and modern countertops.
As described in a realty listing, the chef's kitchen, or the designer kitchen, is the number one factor that entices house hunters to schedule an appointment to view the house. People want a showplace kitchen that can be a center for family life and a hub for entertaining. Why? Because homeowners place a high value on kitchen spaces that can serve as a backdrop for social activity. Although larger homes typically have larger kitchens, in affluent areas, the kitchen space is disproportionately larger.
It is not just the size of the kitchen that homebuyers find attractive. It is the features. Among the favorite amenities home hunters gravitate toward are spacious islands, custom cabinetry, natural stone countertops, high-end appliances, and natural lighting.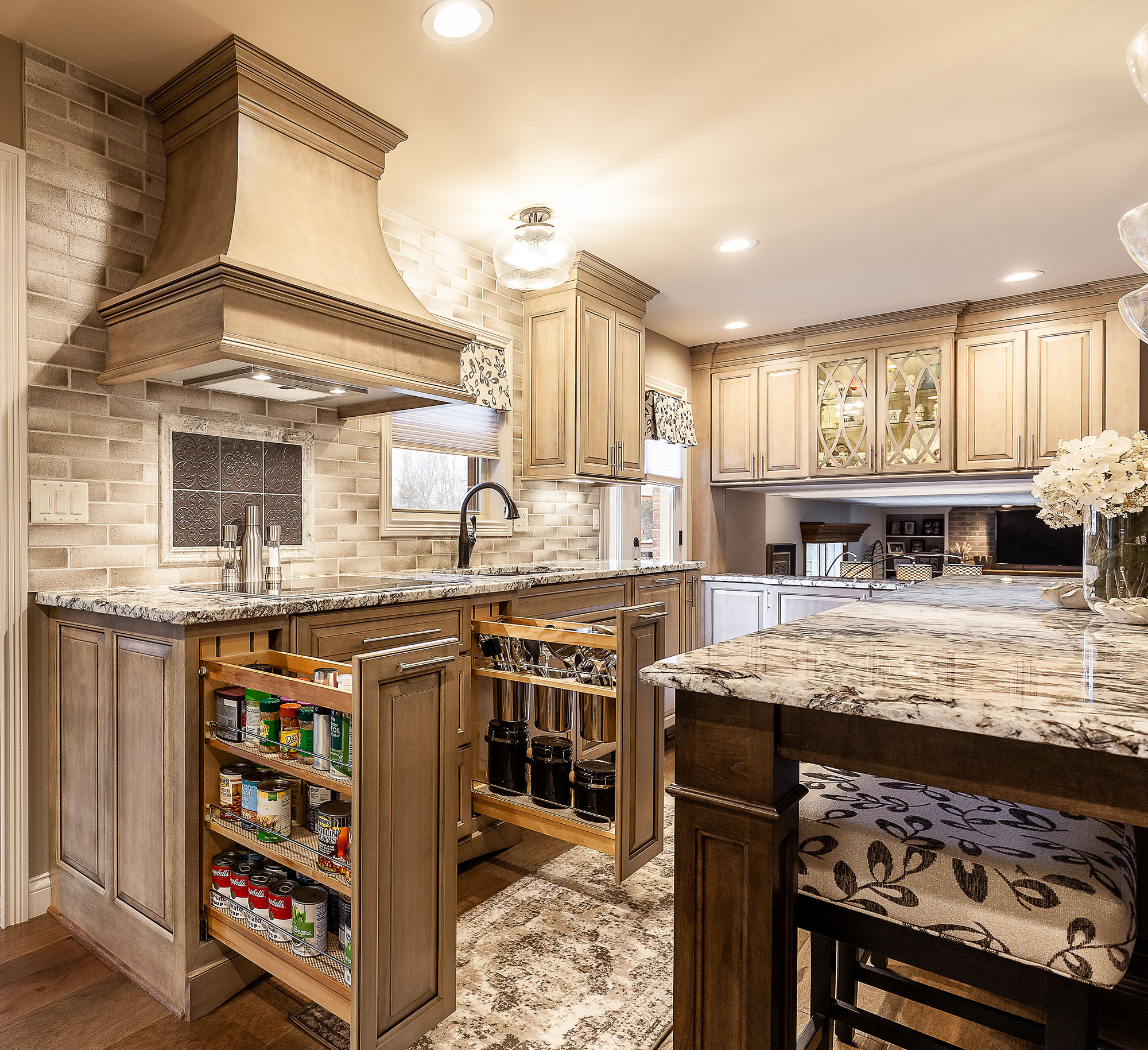 The gorgeous, renovated kitchen featured here was designed by Sims-Lohman designer Earlene Schneid. Earlene initially met with the homeowners, Cindy and her husband to listen to their needs and guide them with making the right choices in cabinetry and countertop selections. They decided on installing custom Kemp Maple, Oatmeal cabinets around the perimeter walls. The island uses a darker walnut stain with a black glaze.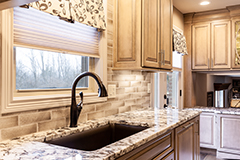 The main goal was to reconfigure their existing space by moving an oven to a far wall by the refrigerator. This opened up the working counterspace along the back wall.  By moving the sink under the window, it increased the granite island length to accommodate more seating for large family gatherings and entertaining.
Cindy says, "Our experience was exceptional. We were very happy with the outcome of our project from beginning to end. Earlene was there for us every step of the way with any questions or needs that we had."
Homebuyers also like large pantries, durable yet beautiful flooring, and chef's kitchen features, such as wine fridges, six-burner stovetops, and warming ovens.
Making Improvements
How can current homeowners improve their homes' resale value before they sell it on the market? Sound advice is to weigh the return on investment before committing to a home improvement project in a house you intend to put on the market. Improvements made to the kitchen will increase a home's salability more so than any other room renovation, so it is in the best interest of homeowners to invest their home improvement dollars in this room first.
Replacing an existing laminate countertop with quartz or granite countertops is a popular option. Most homeowners love the clean, beautiful look of new countertops. Both elevate the appearance of a kitchen, giving it a modern and sophisticated feel. Homes without replacement countertops might not get a second look or an offer.
A remodeled and updated kitchen with highly sought-after granite countertops typically means that sellers can recoup between 80% and 100% of the cost of the home improvements from the sale of their home. As well as increasing the market value, an updated kitchen means that more buyers will be interested in seeing the home, and it will sell quicker. The allure of a beautiful kitchen cannot be understated. After all, kitchens sell houses.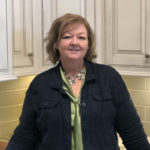 Let's Start a Conversation!
When designing your dream kitchen, our team knows how to work with you to get it right. Call Earlene at our Cincinnati showroom at 513-651-3510, or any of our sales team members to help you with a free consultation.