Marble has long been a popular material for kitchen countertops. In fact, it has been a building material of choice for thousands of years. We know that marble is a natural material, but beyond that, how much do we know about it, and how is it formed? This post takes a closer look at Marble to help you determine if it's the right material for your countertop.
Marble's Natural Beauty and History
Marble is a rock that forms from the earth. It is a metamorphic rock, which means it is formed when other types of rocks, like igneous, sedimentary or other metamorphic rocks, are smashed together and subjected to extreme heat and pressure. The high temperatures and pressure alter the physical and chemical make-up of the rocks and they are forever fused together. The bulk of the Earth's crust is comprised of metamorphic rock, a by-product of tectonic, magma, and volcanic activity deep beneath the surface of the planet. Metamorphic rock makes its way to the surface through seismic activity, as well as through uplifts and erosion. Slate, quartz, and gneiss join marble as examples of metamorphic rocks.
Geologist considers marble to be metamorphosed limestone, but it also commonly contains crystallized carbon minerals, such as calcite and dolomite. True marble will contain tiny, sparkling crystals and streaks of other colored materials, blended together in a unique mosaic. It can be found in an array of colors and patterns, depending on the minerals it is made of and the pressures it has endured. Iron oxides, clay, silica, and serpentine all contribute to the distinctive coloring and patterns.
Geography
Italy and China lead the world in the production of this stone, followed closely by Spain and India. These four countries, in fact, are responsible for nearly half of the world's production. Italy leads the world in marble exports. The United States is the world's top consumer and plenty of the material is quarried in the United States. In 2016, more than 55,000 tons were extracted from American quarries1. There are quarries located around the country, with notable ones in Vermont, Massachusetts, Wisconsin, Indiana, and Texas.
Marble produced in the United States is typically a solid gray in color, lacking the color variations found in foreign marbles; therefore, it is not often used as a countertop material. Instead, it is utilized in building construction. In fact, the marble exteriors of some of the country's most iconic structures, including the Jefferson Memorial, Lincoln Memorial, and the U.S. Supreme Court Building, were fashioned from home-grown marble. Although stones produced from local quarries are less costly, they lack the intricate patterns, crystals, and coloring that Italian marble contains.
Questions to ask yourself
Is my purchase all about the aesthetic?
Do you like the way marble looks? Do you enjoy the statement that marble makes? If you answered yes, then the concerns of scratching and staining can be addressed by taking a little more care with the surface.
Can I handle the maintenance myself?
To properly maintain your marble countertops, you should be careful not to use the countertop as a cutting surface and properly seal it on an annual basis as sealants wear off over time.
1 https://marble.com/articles/about-marble-and-granite-quarries-in-america-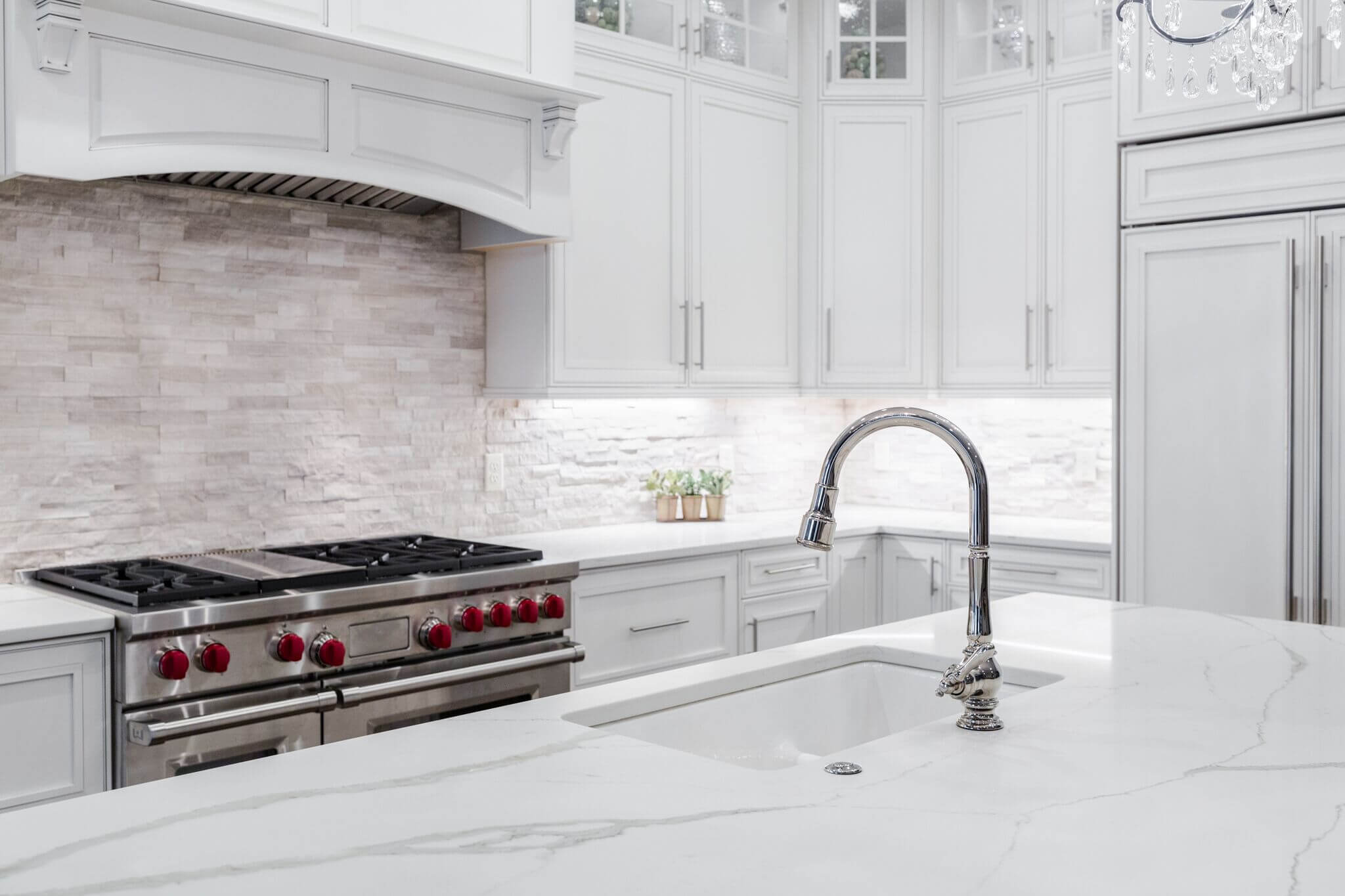 Photo Courtesy of Dave Ott Homes and Hailey Bollinger Photography
Disadvantages
The density of Marble will vary by slab. Pure white marble is unique and one-of-a-kind construction material because it is readily available, durable, and easily carved. When polished, it gleams and shines. With that, comes the realization that yes, Marble counters will permanently stain and scratch. Due to its softness, stains happen when foods or acidic liquid rests upon the surface. Some homeowners report that even water can even significant spotting.
Return on Investment
If your love for the warm and unique appearance of marble outweighs the minimal maintenance required, then installing Marble is definitely worth it the investment. Marble will maintain it's value and adds equity to any home or office.
Our team can help you determine if Marble or other stones are a right fit for your lifestyle. Just pick up the phone and schedule a consultation today!