Cincinnati, OH November 12, 2020 — Today, the Deloitte Cincinnati USA 100 released its ranking of the largest privately held companies in the greater Cincinnati area. The annual list includes the top 100 companies by sales.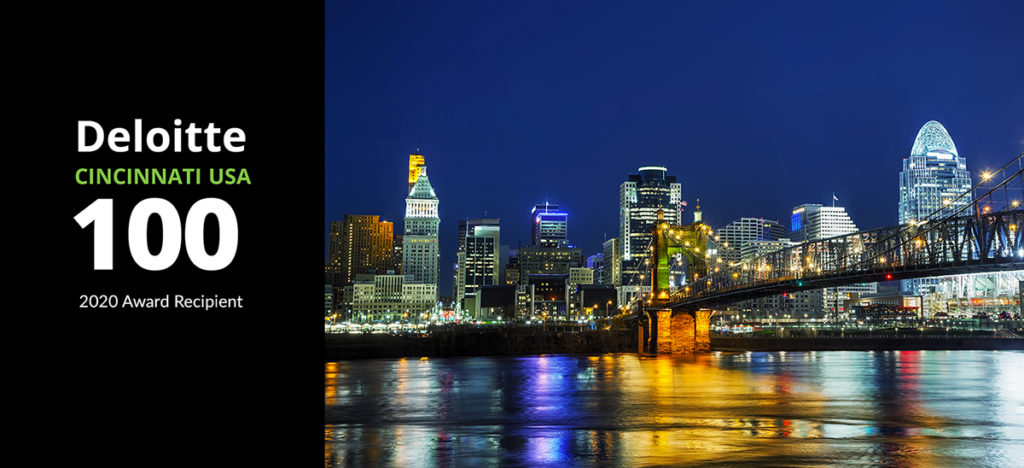 Sims-Lohman is pleased to announce the company ranked 75th for 2020. This year marks the 6th year that Sims-Lohman has been included as an award winner. We are honored to be associated with the other winners on the list. Together we are being recognized as the companies that are powering the region's economic growth while contributing to the social good of our communities. We look forward to living up to these values in the months and years ahead! 
President of Sims-Lohman, John Beiersdorfer, credits our Team Members and their dedication to the company's accomplishment. "We are fortunate to have an incredible team built around our DOIT culture that has provided 20 years of superior results for Sims-Lohman."
The companies ranked on the 2020 Deloitte Cincinnati USA 100 continue to serve as a strong foundation for our local economy. Overall, 2020 Deloitte Cincinnati USA 100 companies generate $43.6 billion in sales and employ 125,000 people. This article was announced in The Cincinnati Enquirer who has surveyed the locally Top-Private companies over the last 37 years. The survey attracted five new companies to the group despite the disruptive year marked mainly as a result of the COVID-19 pandemic.
Award Winners
The top 5 award winners are listed below. To read the full listing of companies, please click here.
About the 2020 Deloitte Cincinnati USA 100 
The Deloitte Cincinnati USA 100 program salutes Greater Cincinnati's largest privately held businesses and their leaders. Since the launch of the Deloitte Cincinnati USA 100 in 1983, the program has honored greater Cincinnati's most recognizable private companies. Deloitte is joined by Enquirer Media and the Great American Insurance Group to recognize private businesses for the tremendous economic and civic contributions they make to our community.