Carmel Indiana Multi-Family Markets
Our Sims-Lohman multi-family teams in our Indianapolis markets have been busy this past quarter working on The Railyard at Midtown, Midtown Flats Carmel Apartments, and the Cityway II Apartment Communities. Located in the heart of midtown Carmel, these chic neighborhoods offer residents a place to live, work and play all within walking distance. Bike lanes, decorative brick pathways, custom art installations, one-way streets, boulevard style public parking, and plenty of green spaces are conviently nearby. We caught up with team members Scott Stallings and Jeff Synder for information regarding these large projects.
The Railyard at Midtown
New to the Monon Greenway area is the Railyard at Midtown apartment home community. Dillon Construction Company is building the apartments for Barrett and Stokley. They are located near corner of Elm Street and 2nd Avenue Southwest in Carmel, Indiana.
Interior
All units are decked out with designer interiors amongst both flats and two-story loft apartments. Kitchens are customized with Urbana Cabinetry in the Rush door style, using both Polar and Dusk finishes.  Countertops were chosen by another company but are similar to a Miami White Quartz.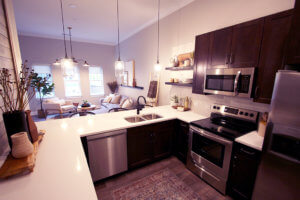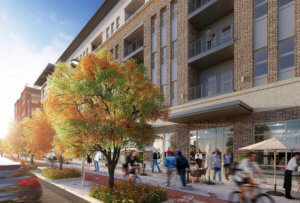 CityWide II Apartments
Cityway II is a luxury urban apartment community in downtown Indianapolis. They're being built and owned by Buckingham construction company above an existing parking garage and will have 70 apartments on floors 7-13. Penthouse units will occupy the 14th floor.
The pet-friendly properties sit between Lucas Oil Stadium, Lily Headquarters, and the Bankers Life Arena.  Bikes are available for rent throughout the downtown area and are near the Indianapolis Cultural Bike trail.
Interior
The interior boasts such details such as exposed brick walls, ductwork, and granite countertops, which blend seamlessly with the Urbana Cabinetry chosen in the same Rush door style and Polar, and Dusk color.  Some units also feature a rooftop balcony. Rentals average around $1899 a month to $3200 a month for a Penthouse unit.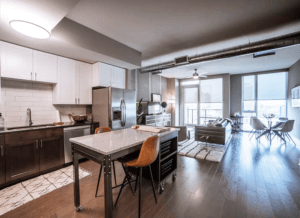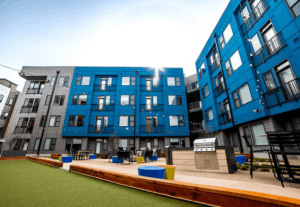 Midtown Flats Railyard Apartments
Carmel Midtown Flats is a J.C. Hart Builders and Developers apartment community. Located directly on the Monon trail, they offer studio, 1-bedroom, 2-bedroom and 3-bedroom apartments. For those into finess,  walk through the courtyard to access a pool and fitness center.
Residing at Midtown Flats puts you a short distance from the Monon Trail, and popular eateries like Sun King Spirits. They have more than 300 parking spaces through an underground parking and an adjacent garage.
Interior
Kitchen units are completed using Urbana Cabinetry in an Riva door styles, Dusk finish.  Countertops were chosen by another company but are similar to a Miami White Quartz.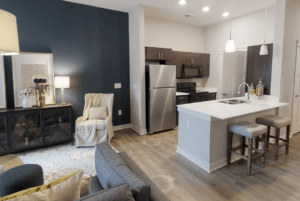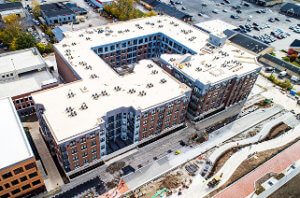 With so many amenities and features, it's no wonder that consumers look for these types of community-based dwellings. Carmel, Indiana is often voted as one of America's Top Places to Live by Money magazine. Nightlife, leading businesses, community events, and still an easy commute to Downtown Indianapolis.
Our Indianapolis multi-family field group will use their expertise to ensure your kitchen installation process is executed seamlessly.
Consult with Scott or Jeff today to identify solutions that could make your project simpler and more dependable.
Scott Stallings (317) 306-6641
Jeff Snyder (317) 732-9021