Say goodbye to neutrals and open floor plans and hello to mood-lifting color and a place for everyone.
With home improvement season definitely upon us, ProBuilder magazine has shared five remodeling trends anticipated to be big this spring and summer. A year out from the start of the pandemic, many home improvement projects will likely be focused on lessons learned from our time indoors. First, the rise in dedicated spaces. Open floor plans were highly requested prior to the pandemic, but greater use of the home showed many that dedicated spaces are necessary for changing lifestyles. Read the article in its entirety here.
Consult with a team of experts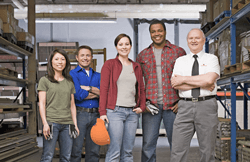 We hope by sharing these remodeling season trends, they might help you throughout the whole process.  It's all a matter of planning and communication. Our design teams are here and ready for you to customize a functional indoor or outdoor space that meets your lifestyle and budget. We have 21 kitchen showrooms located across 6 states. Just give us a call and ask for a kitchen design team expert.